When many of us think of sport,s the first thing that comes to mind isn't anime. However, sports and anime are a match made in heaven. There are many sports anime that have been published through the years, but there have been none more iconic, more influential and more amazing than Takehiko Inoue's manga/anime Slam Dunk.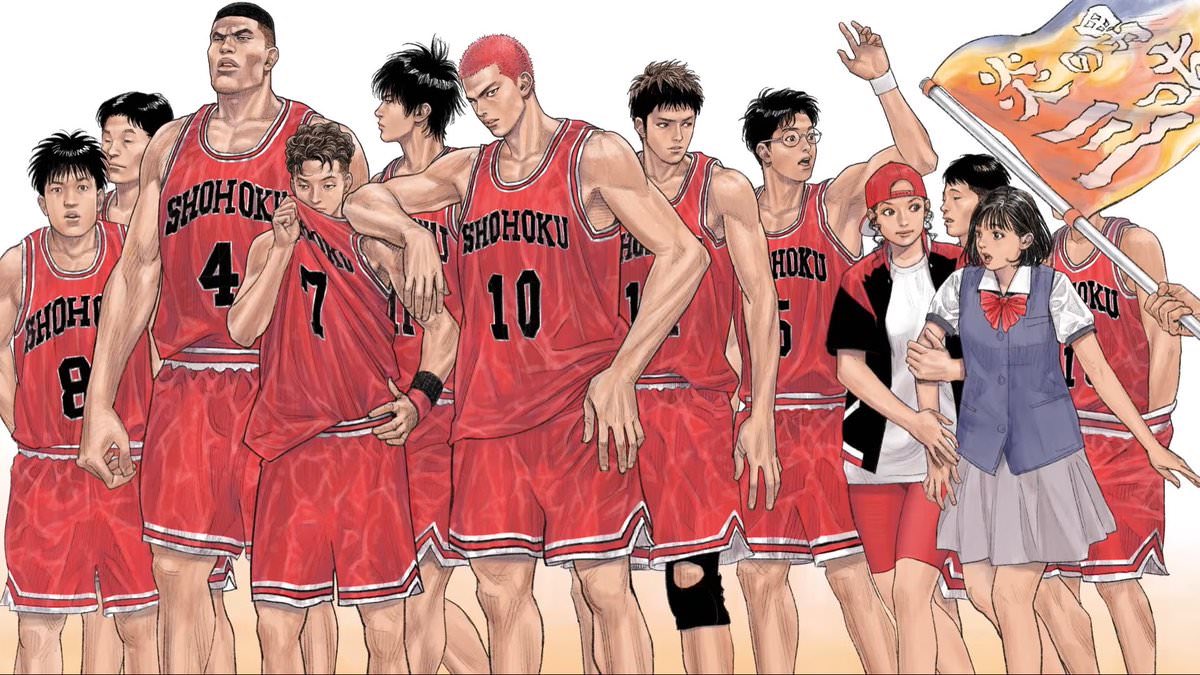 Slam Dunk is a Japanese-NBA inspired anime and manga. The story follows the bold, red-haired, school punk Sakuragi Hanamichi. Sakuragi is the self-proclaimed "basketball genius" on a journey as an athlete. On his way to become a true basketball athlete, Sakuragi has met amazing people that served to fuel his desire and love for the game. Sakuragi plays as a power forward for the Shohoku High School Basketball team.
Sakuragi was a delinquent who always found himself in trouble. After his 50th straight rejection by his crush who chose a basketball player over him, Sakuragi vowed that he hates the sport. After entering high school, he met a new crush by the name of Haruko. Due to her genuine love of basketball, and Sakuragi's immediate infatuation with Haruko, she inspired him to join the basketball In the beginning, Sakuragi only joined the Shohoku basketball team in order to impress and win his love, Haruko. He was physically gifted surpassing all his peers in strength, speed and jumping ability. However he lacked all skill and basketball expertise. What he did have was talent and an unyielding drive to win. On his journey, Sakuragi met others such as Rukawa, Haruko's love interest and the star player of Shohoku. These people served to inspire Sakuragi to improve his skills in basketball eventually causing him to truly fall in love with the game for the sake of basketball itself.
Slam Dunk is a basketball anime and is one beloved by all who watch it. Having played high school basketball myself, I noticed the small details which truly made the anime great. One small detail I noticed was the "hands down the pants" that nearly all the basketball players in the show did. Without any knowledge of the sport and basketball uniforms, this detail seems odd. However, if you did play basketball this makes perfect sense because basketball shorts do not have pockets. So, instead of letting their arms hang free, some players will put their hands down their pants (pictured below).
Small details about the game make the Slam Dunk anime spectacular. The anime, however, does not only revolve around sports. It is truly a story about a young man coming of age, finding love and friends with basketball as the pillar to support his youth and maturation.
Not only is Slam Dunk a beloved anime, but it also has many iconic references and influences in fashion and culture. The protagonist Sakuragi, as well as other characters, wore iconic shoes such as the Nike Air Jordan 1 and the Nike Air Jordan 6. These iconic shoes were ones that the greatest player of all time, Michael Jordan himself, sponsored and wore on his on journey as a basketball player. These nods to the iconic basketball star further fueled the love for Slam Dunk.
The the hype for the anime even served to influence the Jordan Brand sneakers themselves. They came together to create a special pair of the Nike Air Jordan 6, the very same shoe that the protagonist himself wore. The shoe features images from the manga as well as a special shoe box that features more panels from the manga.
If you are a sports fan, a lover of fashion and an admirer of amazing stories of youth, then Slam Dunk is the anime for you. It clashed comedy, basketball culture and love to create a story that became unforgettable for all who watches and reads it. Slam Dunk is an anime that has been influential and enjoyed by many and it is one that I 100% recommend to all anime and manga fans.