How're You Livin',
Summer is coming to an end and this means that Winter is fast on its way. In Colorado, where I live, we tend to have winter months eight months out of the year. Due to this, we bundle up with as much as we can so that we can stay warm. However, with the inclement of fall, we deal with warm days and cold nights. To stay warm and comfortable, it's important to dress properly for the season. Here is the question since this is an article on fashion. How can we stay snug in these weather changes and also remain stylish? The perfect piece of clothing for Fall is the flannel shirt
There are many pieces of clothing that can be worn during Fall and Winter to stay warm. You can wear jackets, long sleeve t-shirts, etc. However, there is only one iconic staple that we all know. For this type of weather, the perfect piece of clothing to wear is the flannel shirt. Flannel shirts, more colloquially known as flannels, scream Fall. The flannel is a very traditional piece of clothing and is one tailor made for colder temps. Typically a collared, long sleeve shirt made from a softer material like brushed cotton, flannels help keep you comfortable and warm because the material is soft on the skin. However, flannels are shirts and are not made to be thick like a jacket. This makes flannels a good middle ground between jackets and t-shirts. Coming in a variety of colors, materials, styles and sizing, flannels have a wide application in style and function. It is certainly difficult to find the perfect flannel and even harder to style it. Luckily, I have suggestions on both that will help keep you stylish, savvy and save you extra money.
Flannels can be purchased just about anywhere. Due to this, the quality of flannels can and will vary widely from one place to another. It is easy to overspend on flannels and get less than the quality and comfort for which you have paid. I have three suggestions as to where to get a high quality flannel for an affordable price: Uniqlo, Carhartt and LL Bean.
Uniqlo is an Asia based fast fashion brand. Despite the fact that they are a fast fashion brand, Uniqlo continuously delivers high quality goods at an affordable price. As we approach Fall, Uniqlo restocks and delivers new, seasonal fashion in a wide array of colors and styles; their flannels are no different. Uniqlo flannels come in at an affordable $29.90. If you are seeking a high quality, unique, colored flannel, Uniqlo is certainly the place to go.
Carhartt is an American work wear brand established in 1889. The brand has renewed interest and popularity due to actors and actresses wearing the brand. Carhartt is well known for their quality and durability. Work wear brands create tough and sturdy clothing for the makers and doers of the world. Flannels from Carhartt have a wider cut for comfort in movement and work. Their flannels certainly fall into the realm of high quality, durability and affordability. This particular Carhartt flannel at $44.99 at Amazon. Though it may be on the more expensive side, Carhartt flannels will certainly last you for years to come even with daily wear and tear. If you are looking for a tougher and wider fit flannel, then Carhartt is just the place for you.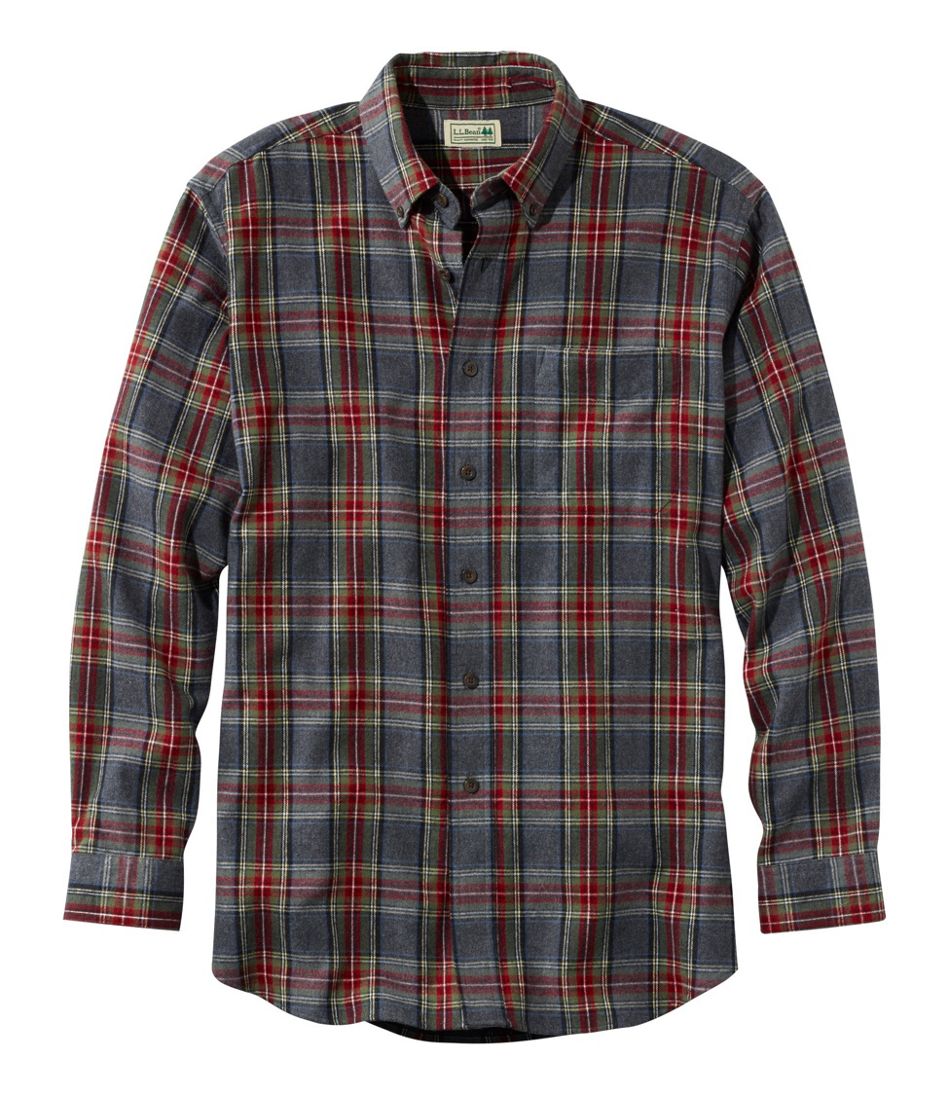 LL Bean is an American outdoor brand. They create many different articles of clothing all geared for the outdoors man. Their flannels certainly follow this outdoor aesthetic. LL Bean flannels are made from a unique stitching that makes the flannel extra durable. The material is made from a brushed cotton in order to create an incredibly soft and comfortable feel on the skin. Perfect for the outdoors, LL Bean flannels will keep you warm and comfortable for only $49.95.
Now that you have a flannel, how are you supposed to wear it? Flannels can be worn in numerous ways. Traditionally, flannels are known to create a strong, rugged look that we have all seen. However, flannels can be worn in so many ways other than the "lumber jack" look. Flannels are a very versatile piece of clothing that can be worn stylishly in different ways from dressed up to more casual.
This is a more traditional way of wearing a flannel. Here, the flannel is worn unbuttoned over a t-shirt with a nice pair of chelsea boots and indigo-wash jeans. This is a traditional way of wearing a flannel; however, this style focuses on small details of style in order to elevate the traditional look to a more casual style of dress.
Here, in this example is a more casual style of dress for a flannel. We see here that the flannel is layered over a hoodie. Worn with skinny jeans and chelsea boots the look is more casual and relaxed. The shoes themselves do not necessarily need to be chelsea boots. This outfit can be worn with sneakers as well. Worn as a layer, flannels will add warmth, texture and color to any outfit elevating any outfit.
Here we see Jared Leto rocking a flannel in a unique way; he has the shirt tied around his waist. Jared Leto is known for being well-dressed and pushing the limits of fashion. As seen above, he is doing the same thing once again. Leto is wearing a tank top with a pair of relaxed, casual jeans with a flannel tied around the waist. Flannels do not necessarily need to be worn. Here Leto is using it as an accessory tied around his waist which adds more color and texture to this otherwise ordinary outfit.
Fall into fashion this year with a wonderful flannel. Flannels are affordable, durable and versatile for any fit and fashion. If you choose to purchase one, there are so many ways that you can wear it. If you already have one, jump into a new style this year. You and your wardrobe will not regret it!