On October 23, Netflix released a miniseries, The Queens' Gambit, which is based on Walter Tevis' 1983 novel of the same name. It became popular almost overnight, becoming Netflix's most-watched scripted miniseries after only four weeks. Interest in chess, especially from women, has exploded and companies are reporting massive sale increases in chess sets. I decided to check out the seven-episode miniseries after watching the trailer on Netflix. I was hooked onto the show within the first 10 minutes. After watching it in its entirety, I can proclaim that The Queen's Gambit is a masterpiece and a show everyone should watch.
The Queen's Gambit is set during the 1950s and 60s. Elizabeth Harmon is an orphan who is sent to live at the Methuen Home, an orphanage in Kentucky. She is forced to take tranquilizer pills at the orphanage to make the children more compliant. While she does this, she discovers the custodian, Mr. Shaibel, playing chess and after many requests, he teaches her how to play. She becomes addicted to the pills as her obsession with chess grows due to her visualizing chess moves on the ceiling while high.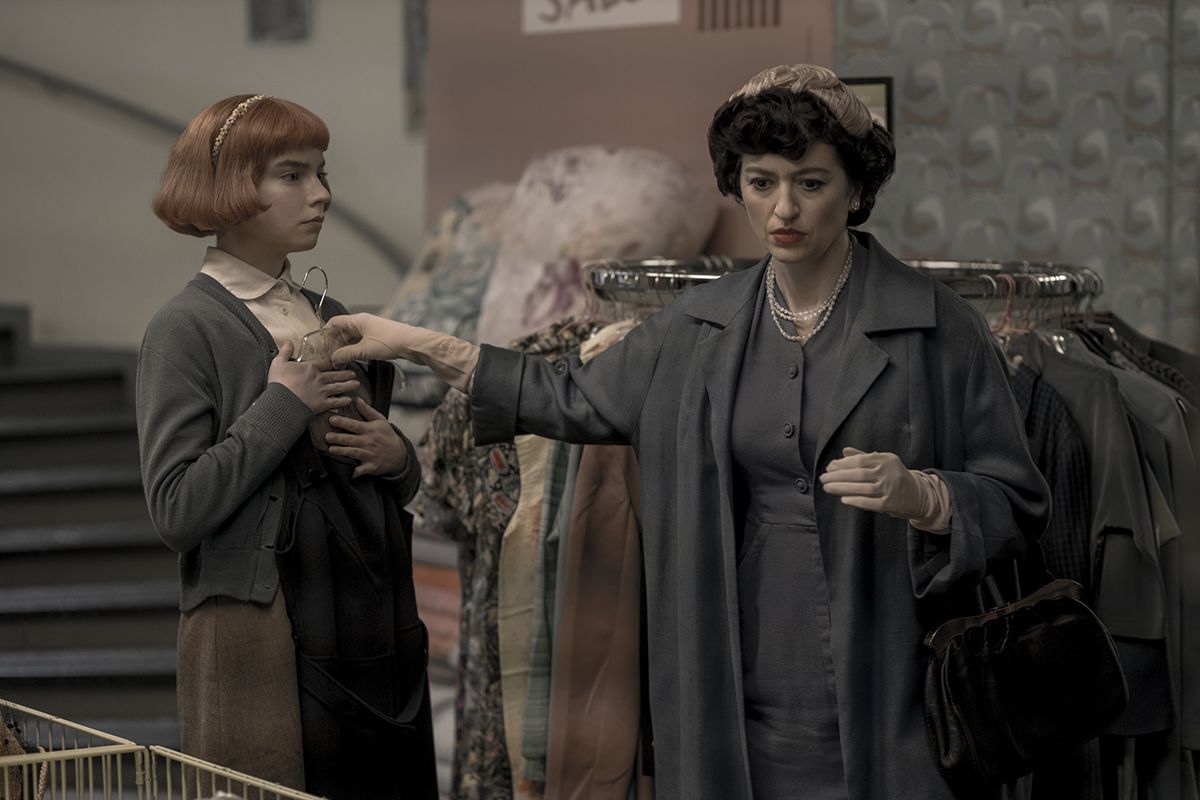 Eventually, she is adopted by Allston and Alma Wheatley, moving out of the orphanage into their home. Beth discovers that Alma takes the same pills she did at the orphanage, stealing some to continue her visualization of the game. After Allston abandons the family, Beth enters the Kentucky State Championship (KSC) with financial help from Mr. Shaibel, dominating the chess tournament. After she wins, Beth begins to climb her way up the ranks of top chess players.
Along the way, she develops friendships and relationships with many competitors and grows closer with Alma as they travel between tournaments. However, her addiction to the pills has a lasting toll as throughout her journey, she struggles with alcohol and drug abuse. As she becomes an adult, Beth must figure out what she really wants in life and what role chess plays within it.
This show is absolutely fantastic in many aspects, but for this review, I will focus on the look of the show, the brilliant acting and the tremendous writing.
The show is shot incredibly well. The scenes with Beth looking at a chess board on the ceiling throughout the show are mesmerizing, adding to the impact of her addiction and obsession of the game in a clever way. To put it bluntly, chess is not a super fast-paced sport, often being really slow. A show with a bunch of chess scenes may not sound exciting, but those scenes are done incredibly well. However, the show pulls it off well, consistently investing me in those scenes.
While the acting and writing make these scenes great, the camerawork displays the emotions and thought-processes of the players to the point where I feel like I am watching a real-life game take place. The score, composed by Carlos Rafael Rivera, also adds to the tension of the games, on top of Beth's everyday life. It amplifies the dramatic moments throughout the show with a full orchestra that is breathtaking for the audience. The score, combined with the exceptional camerawork, make the chess games and everything outside of them enthralling.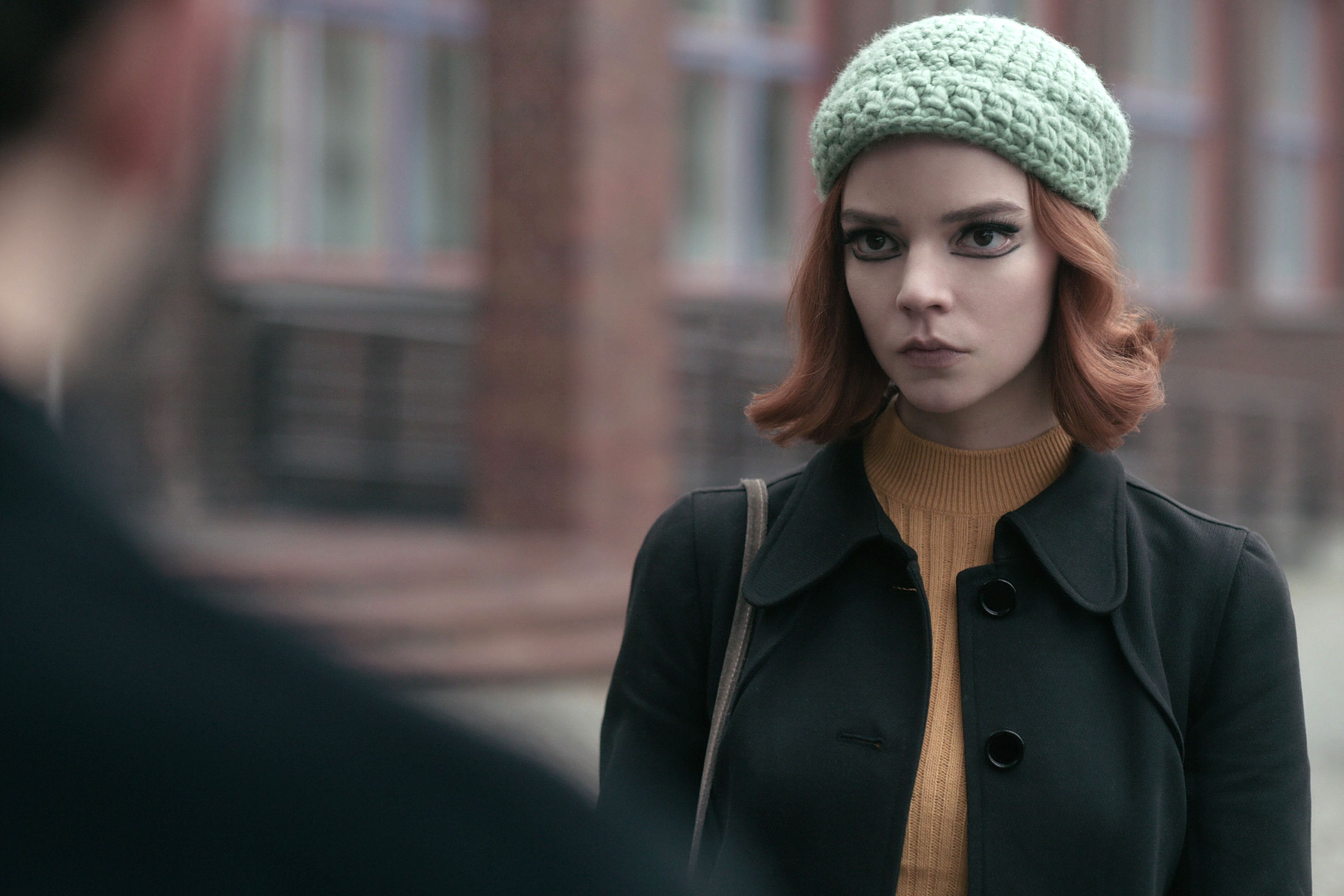 Scott Frank's writing for the show is effective in telling a great character story, which is ultimately what The Queen's Gambit is at its core. Beth Harmon is a very complicated character who lost both her real parents, was not popular at school and has her only friends being her competitors. This blurs the line between her work and her personal life and, oftentimes, chess completely consumes her life. One example of this is when Harry Beltik, a person she played against at the Kentucky State Championship, asks her about personal things. To deflect, she immediately changes the subject back to chess. Later, she is asked chess questions from U.S. Open competitor Benny Watts and she scolds him for not focusing on their time together. She struggles with this balance alongside her drug and alcohol issues, making her a character full of turmoil. I cannot praise the writing enough for displaying her struggles in various ways as it makes me invested in every action she takes.
My one issue with the writing, and the show as a whole, is during the KSC, she develops a crush on a competitor named Townes. There isn't enough development with those two for me to be as invested with them as I am with her friendships and relationships with other competitors like Watts and Beltik. The latters are done much better and I wish her relationship with Townes was focused on more. However, her relationships with everyone else, especially Alma, are terrific and I love the development those get, so one falling short isn't a huge deal.
Lastly, the acting makes the show even more heartfelt. Anya Taylor-Joy (The Witch) was the perfect choice to play Beth and she knocked it out of the park. Due to Beth's inner struggles, Taylor-Joy must display a wide range of emotions and she nails all of them. This includes her naivety during her teenage years, her know-it-all and cocky attitude as a great chess player and her instances of depression and sadness. Her performance is one of the best I have seen on film, especially from a protagonist, and this is the biggest reason I was so invested in Harmon's character journey. Marielle Heller as Alma, Harry Melling as Beltik and Thomas Brodie-Sangster as Watts all do a great job in their roles alongside Taylor-Joy. Their chemistry with her is incredible, making their relationships believable and heartfelt.
Overall, The Queen's Gambit is a masterpiece of television due to its great look, writing and acting. It is only seven episodes, making it is not a huge time commitment. I cannot recommend it enough. This is a show everyone should check out on Netflix.
Rating: 9.5/10