It is officially Christmas, my favorite holiday of the year. This is a great time to celebrate the season of giving with your friends and family, along with whatever traditions families choose to perform during this time. One aspect of this time of year are the many Christmas movies people choose to watch as they celebrate the holiday. The two go-to movies for my family and I always are The Polar Express and my personal favorite, The Muppet Christmas Carol. It is a close interpretation of Charles Dickens' classic novel with the aesthetic of the Muppets forming its own creation. Spoilers for The Muppet Christmas Carol ahead.
The film is set in 19th-century London as Charles Dickens (played by Gonzo the Great), and his friend Rizzo narrate the events of the film. We follow Ebenezer Scrooge (played by Michael Caine), a cold-hearted and ruthless businessman who works as a money lender. He does not view Christmas as an occasion to celebrate, rejecting his nephew Fred's invitation to come over and spend Christmas dinner with him and his family. He reluctantly gives his bookkeepers Christmas off, heading home to spend the holiday alone.
However, he is visited that night by the spirits of Robert and Jacob Marley, played by Stattler and Waldorf, who tell him that three spirits will visit him that night and that he must change his selfish ways or he will be condemned to suffer in the afterlife like they have. Later, Scrooge is visited by three ghosts: the Ghost of Christmas Past, the Ghost of Christmas Present and the Ghost of Christmas Yet to Come. They show Scrooge his younger self, as he rejected the love of his life for money, his nephew and co-workers who are celebrating Christmas in the present and the dark future Christmas will have if he continues to act the way he has. Scrooge goes on a journey of self-discovery as he learns what it means to be in the holiday spirit.
This adaptation is a musical-comedy film that contains a lot of meaning. The acting and performances from the Muppets are all fantastic, but the music and story are the two main reasons this is my favorite Christmas film.
Michael Caine stars as Scrooge, portraying a serious character in a movie surrounded by Muppets. He is someone who only cares about money, leading him to act selfish and cold-hearted. He feels like a real person in this setting, a testament to Caine's acting. However, when he goes on the journey with the three spirits, you see genuine emotion from him. This includes when he reflects on his former love, Belle, lamenting losing her for his career advancements. Him seeing his co-workers and family speak horribly about his name leaves a lasting impression on him. Caine portrays a man going through emotional change, an impressive feat in a musical comedy.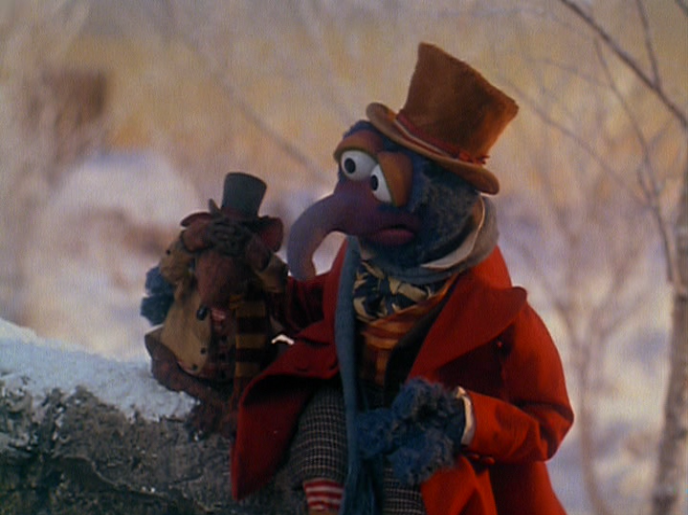 The Muppets, per usual, are very entertaining on screen. With many different Muppets portraying the sheer number of characters in the film, the ones that stand out are Kermit the Frog as Bob Cratchit (one of Scrooge's bookkeepers), the narrators Gonzo and Rizzo, Statler and Waldorf as Jacob and Robert Marley. Steve Whitmire performs as Kermit and Rizzo, Jerry Nelson as Statler and Dave Geolz as Waldorf and Gonzo. Kermit is a content worker who can only provide a smaller dinner for his family and Statler & Waldorf are Scrooge's old and bitter business partners. They are entertaining as always, providing the necessary heart and emotion for the story, which makes them effective characters as well. However, Gonzo and Rizzo steal every scene as the narrators. Watching them stumble around as they follow Scrooge provides some of the most hilarious moments in the film, on top of their blunt commentary. The Muppets give their own spin on the classic tale, making the movie a memorable watch.
Usually, I am not a fan of musicals as the songs tend to water down the story for me. That is not the case in The Muppet Christmas Carol as the songs, created by Miles Goodman, perfectly emphasize the story while being entertaining as well. There are two songs that stand out: "Scrooge" and "Bless Us All." "Scrooge" is the first song after the opening credits, showing many muppets following Scrooge on his way to work. The song discusses Scrooge's cold heart as his presence alone brought chills to everyone around him. Everyone hates him for his nature, showing the growth he needs as his journey begins. This was the best way to introduce Scrooge as it effectively presents his negative impact on everyone around him.
"Bless Us All" is a wholesome song, showing Bob Cratchit and his family celebrating what they have to show how great it is to spend Christma. As Scrooge watches the family sing, you can see the emotion on his face as he learns what celebrating Christmas with family is all about. This, combined with the realization that Cratchit's son, Tiny Tim, will not make it to next Christmas, leaves a noticeable impact on Scrooge as well. The great singing voices, combined with the meaning of the songs, make The Muppet Christmas Carol, an effective musical.
Lastly, I love the development Scrooge gets through his journey with the three spirits. The Ghost of Christmas Past show how his decision to pursue only money cost the one true connection he had in his teenage years. Present showed him what it was like to have family, along with how everyone hates him. Yet to Come showed him how Tiny Tim passed away and how Scrooge's death was not mourned by anyone. This causes him to change, becoming generous and loving at the end of the film. It is a simple, yet satisfying character story, making The Muppet Christmas Carol a satisfying watch.
Overall, The Muppet Christmas Carol is the perfect Christmas movie to watch every holiday season. It is a fantastic musical, and in conjunction with the performances and story, there is a lot of substance to it. I highly recommend checking this film out this holiday season, especially if you haven't seen it before, as there is something for everyone to enjoy.
Rating: 10/10